Here's where we tell you how to purchase our CDs and other wonderful, high quality products. Well, actually we haven't got any wonderful, high quality products, but you can buy our latest CD, Close Enough for Rock & Roll.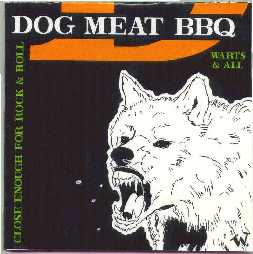 The cost is 15 dollars Canadian. Wanna buy one? Here's how:
If you're lucky enough to live in the St. John's area, you can pick it up at the Urban Sound Exchange, 156 Duckworth Street (next to the War Memorial). You can also buy them direct from band members.
If you live somewhere else (and apparently a lot of people do), you can get it by mailorder from this site by sending an e-mail to: mobrien@ganymede.cs.mun.ca. We'll let you know all detail's, postage costs, etc.
We're working on making at least some of our earlier recordings available through this site. Keep checking back from time to time to see if we've succeeded.
WARNING:
Capitalism hates Dog Meat BBQ!
So we don't take any major credit cards (or minor ones). Don't even ask!