Launch of The 20 Year Scam
---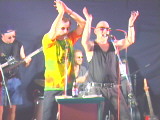 The 20 Year Scam officially launched on July 3, 1999 to a full house at Calio's on Water Street, St. John's. The End of the World was hosted by God, who evidently enjoyed it so much he has deferred The End. Indefinitely, we hope. Or at least until we break even on the CD project.

The show featured material from the CD, as well as some older songs. Some long-awaited awards were presented. In the years since Da Slyme was last heard from, the 1980 double LP had gone porcelain. God made the appropriate presentation. Members of the band also received coveted Looie Awards from the Punk Industry Sound Society for Expression of Youthful Exuberance (PISS-EYE) for achievements in various categories.

---
Contents of this website are copyright © Da Slyme, 1979-1999, except where otherwise noted.