1983: The Blushing Sleazoid Lizards/ Miss Anorexia
---
The only Slyme gig of 83 occurred at Uncle Albert's, a downtown St. John's club, on April 2. This is known as 'the Blushing Sleazoid Lizards Gig'. The Lizards were the only Slyme cover band in existence - in fact they even looked like Da Slyme!!!!
---

The Blushing Sleaziod Lizards
---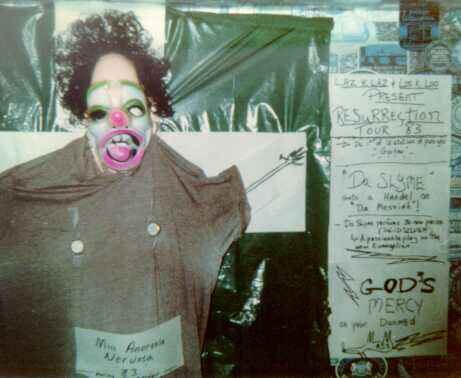 This is also known as the Miss Anorexia Nervosa Gig, denoted as such because of the display used to advertise the show in the club - put up on Monday night by the band and hastily torn down by the management the following day before lunch! The display had been concocted after a few (too many?) Old Stock at a rehearsal, and honoured a certain pop star who had recently expired. There were some reservations about even putting it up, but it was too grotesquely hilarious to resist and now was not a time to introduce political correctness to Da Slyme. No one expected it to stay up for long...
The gig is also remarkable for another reason. Da Slyme generally played either for beer, the door and most often for benefits as has been seen. On this occasion it was for a flat rate - a gargantuan $700.00, negotiated by Mike Martin on behalf of the band. A hefty sum by even today's St. John's club standards. It is also possible that Da Slyme, or members of Da Slyme may have performed at a jam session at Uncle Alberts prior to the April performance but who remembers these things?
---