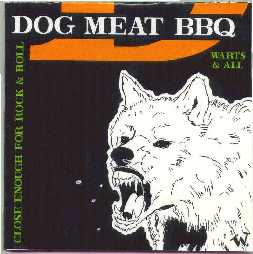 Flub & Dub, 1999.

Mike O'Brien: vocals, acoustic guitar on "Further
Deductions"
Wallace Hammond: guitar
Doug Ivey: bass, demented backup vocals, vocal on
"Detox"
Tony Richards: harmonica, lead vocals on "Mad Cow"
and "Ireland's Eye", acoustic guitar on
"Ireland's Eye", machine on "Wilbur", lead guitar
on "Pyrate Johnny", backup vocals throughout
Justin Hall: batterie (drums, bye!)
Craig Squires: soprano sax, sax-o-bombarde,
synthesizer, bass on "Detox"

Recorded at 88 King's Road, St. John's, November 1999.
Engineered by Wallace Hammond. Tape Op & Log: Denise Brake.
Mixed "live off the floor" direct to DAT by Wallace Hammond & Dog Meat BBQ - absolutely no overdubs or remixing!
Cover art & additional design suggestions by Wallace Ryan.