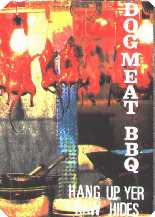 Vikki-Beat, 1997.

Culprits: Justin Hall (drums); Wallace Hammond (guitar, synth effects, short wave radio, rat squeals); Doug Ivey (bass, effects, vocals); Mike O'Brien (lead vocals, chicken-scratch gee-tar); Tony Richards (vocals, harmonica, acoustic guitar); Duncan Snowden (guitar, vocals, 12-string guitar, jaw harp).

Recorded at the Nickel, January 1997. Live tracks recorded at the Ship Inn, August & December 1996. "A Nice Big Shit" recorded in Doug's basement, summer 1988.
Produced by Don Ellis, Wallace Hammond and Doug Ivey. Further recording assistance from John Rowe and Jim Fidler.
Cover design by Duncan Snowden & Susan Collins.
Front cover photo by Mike Yamashita.