Out With a Bang
---
The next project involved Wallace, Mike and Craig. Xmas 85 recordings of more acoustic material were made in St. John's and later released on a tape called 13 BRAND NEW YEEHAWS, with such classics as 'Shootin Elvis', 'Cabbage Patch Hell', and eleven more gems.
The acoustic phase would soon give way to another electric band: DOG MEAT BARBEQUE. Spring 86: Wallace, Mike, Tony (Roscoe) and Justin (Dead Beat), with Duncan Snowden on bass and later guitar. Doug Ivey later became the bass player and when Justin departed to Toronto for a period a number of drummers were employed: DANNY THOMAS, DES WALSH and BRUCE COOPER.
Dog Meat BBQ released a tape in 86 called DEAD DOGS IN THE SUMMER OF LOVE. Interestingly this tape contained a number of songs originally done by Da Slyme but un-issued till the release of The 20 Year Scam. They include: Political Clout, No Talent and others penned by Kirt. This tape was quite popular amongst the underground/alternative scene in St. John's and close to 200 were sold.
Two more folk tapes were issued : DEAD MEN DON'T YODEL and OFF THE BEATEN TRACKS. These by the members of Dog Meat and friends. Dog Meat disbanded in 88. Mike, Tony and Duncan continued with such bands as the HANGING TRIO and THE GARDEN OF HEATHENS.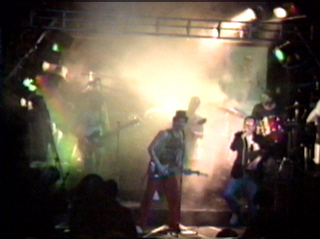 1989 heralded one last return of DA SLYME. (Kirt's Note: when it was decided that Da Slyme would do a reunion I had not seen George, Peter or Craig Butler for almost 4 years!) Those guys though had been in touch with each other on a regular basis and of course the others had been playing in Dogmeat BBQ. The show was slated for Dec 27/89 at the Cornerstone, one of St. John's largest clubs. The club was owned and run by Doug Warren who had done Da Slyme's sound at the first gig and others in the early days.
A month of rehearsal preceded a sold out show - 700 people attended what was called the SKELETONS OUT OF THE CLOSET TOUR (so named because the Mount Cashel scandal was just breaking) - Da Slyme's last hurrah. On for the ride that evening were Stig, Snotty, No, Dead Beat, Kirt, Roscoe, Groon, and down from Toronto - Pasquali.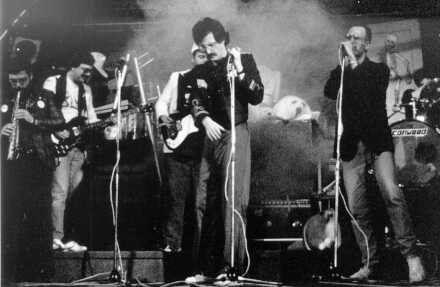 This gig was also the biggest production Da Slyme had attempted. Big lighting. Big sound. Even a printed program. And the toilet, rigged up as a smoke machine, worked perfectly. If this was to be the last Slyme gig, it would be memorable. The event was captured on video tape, and for the first time there was a second camera, roving. (Most of the images in the collage on the cover of The 20 Year Scam are captured from the video shot at this gig.)
---